SMALL SIZE, BIG PERFORMANCE
INDIVIDUALITY AT ITS BEST
The premium compact machines in the new C-series meet the highest demands in terms of design, quality and taste. Whether freshly ground from the whole bean or soluble products: Both versions offer that perfect coffee house feeling with coffee specialities which can be assigned to various recipes.
With innovative components and optional features, the new Gerhardt C sets high standards in design and function. The large-format 15.6" full HD touch screen ensures optimum usability for product selection and menu navigation, visible coffee bean and product containers complete the elegant design with front panels in polished aluminium, glass and stainless steel. High-quality Swiss 62 mm stainless steel disc grinders guarantee an excellent aroma. The individually adjustable ESX brewing group with intelligent control technology ensures consistently high product quality when preparing different coffee recipes. Patented components developed in-house guarantee maximum functionality and minimum maintenance.
The new, more compact design of the fully automatic machine offers a higher capacity than the previous series. In addition to sufficient space for the required payment modules, one or even two types of bean coffee are possible – in addition to up to five instant containers depending on the model. With the optional base cabinet, the compact tabletops can be adapted to your individual space requirements.
For coffee specialities made from the whole bean and instant products

Dimensions: H: 810, with product container 860 x W: 495 x D: 585 mm

15.6" full-HD touch screen manufactured in Germany

5 coffee bean and instant containers

User-friendly menu navigation

Either one or two Ditting 62 mm stainless steel disc grinders

Sufficient space for coin-operated devices or other/additional card and payment systems

Gerhardt ESX brewing group for individual coffee recipes

Minimum maintenance and service

Optional: Automatic cup dispenser
CHOOSE INDIVIDUAL ENJOYMENT IN TWO POWERFUL VERSIONS: COFFEE MADE FROM THE WHOLE BEAN WITH ONE OR TWO GRINDERS OR INSTANT COFFEE
In the instant coffee version, the new Gerhardt CI with its 5 product containers offers a maximum selection of hot beverage specialties supplemented by the pre-selection of milk and sugar in individual doses. Precise processing procedures and high-quality, innovative MMX beverage preparation ensure excellent product quality with minimum service and maintenance requirements. The dispensing time is only 15-20 seconds depending on the speciality.
TECHNICAL DATA
DEVICE DIMENSIONS

Height x Width x Depth in mm: 865 x 495 x 560 mm
Base cabinet: approx. 800 x 495 x 530 mm
COLOURS

Door: in anodised polished aluminium in C-33 Medium Bronze or C-35 Black
Housing: matt powder-coated RAL 9005

WEIGHT IN KG
50 | 40 (base cabinet)
ELECTRICAL CONNECTION
2,300 W / 230 V
MAINS WATER CONNECTION (OPTIONALLY WITH WATER TANK)
3/8"
MACHINE CONTROL

Any number of product choices using a completely freely configurable, standard 15.6" full HD touch screen. The MDB, EXECUTIVE, BDV and EVA-DTS vending standards are supported. Data transfer via SD card or USB interface.

STANDARD FEATURES

15,6" full HD touch screen, 400 cd/m², automatic cup and mug recognition, ready for all common payment systems, automatic rinsing device and much more.

SPECIAL FEATURES

Automatic cup dispenser (capacity 170 cups), jug switch, Ambilight lightsabres, XL product containers for more capacity, hot water button, range of payment modules, limescale filters, base cabinets and much more.

FURTHER ACCESSORIES

On request.

DOWNLOADS
"E" is for espresso – and for Premium coffee specialties. The Gerhardt espresso brewing unit with Swiss quality grinder and variable brewing chamber technology in a stainless-steel chassis ensures the highest-possible quality – from espresso to latte. 6 to 16 grams of freshly ground beans are made into barista-quality speciality coffees using parameters precisely matched to the beans. The espresso is brewed at 9 bar pressure – just as the Italians do it. Or you can decide on your individual pressure setting. No problem with the individually adjustable vane pump. The Gerhardt CE offers 5 product containers which can be freely loaded, offering a maximum selection of exclusive coffee specialties. The dispensing time is 15-45 seconds depending on the speciality.
TECHNICAL DATA
DEVICE DIMENSIONS
Height x Width x Depth in mm: 865 x 495 x 560 mm


Base cabinet: approx. 800 x 495 x 530 mm

COLOURS
Door: in anodised polished aluminium in C-33 Medium Bronze or C-35 Black
Housing: matt powder-coated RAL 9005
WEIGHT IN KG
60 | 40 (base cabinet)
ELECTRICAL CONNECTION
2,300 W / 230 V
MAINS WATER CONNECTION (OPTIONALLY WITH WATER TANK)
3/8"
MACHINE CONTROL

Any number of product choices using a completely freely configurable and standard 15.6" full HD touch screen. The MDB, EXECUTIVE, BDV and EVA-DTS vending standards are supported. Data transfer via SD card or USB interface.

STANDARD FEATURES

15,6" full HD touch screen, 400 cd/m², automatic cup and mug recognition, ready for all common payment systems, automatic rinsing device and much more.

SPECIAL FEATURES

Automatic cup dispenser (capacity 170 cups), Ditting double grinder, jug switch, Ambilight lightsabres, XL product container for more capacity, hot water button, various payment modules, limescale filters, base cabinets and much more.

FURTHER ACCESSORIES

On request.

DOWNLOADS
THE NEW C-SERIES – YOU HAVE THE CHOICE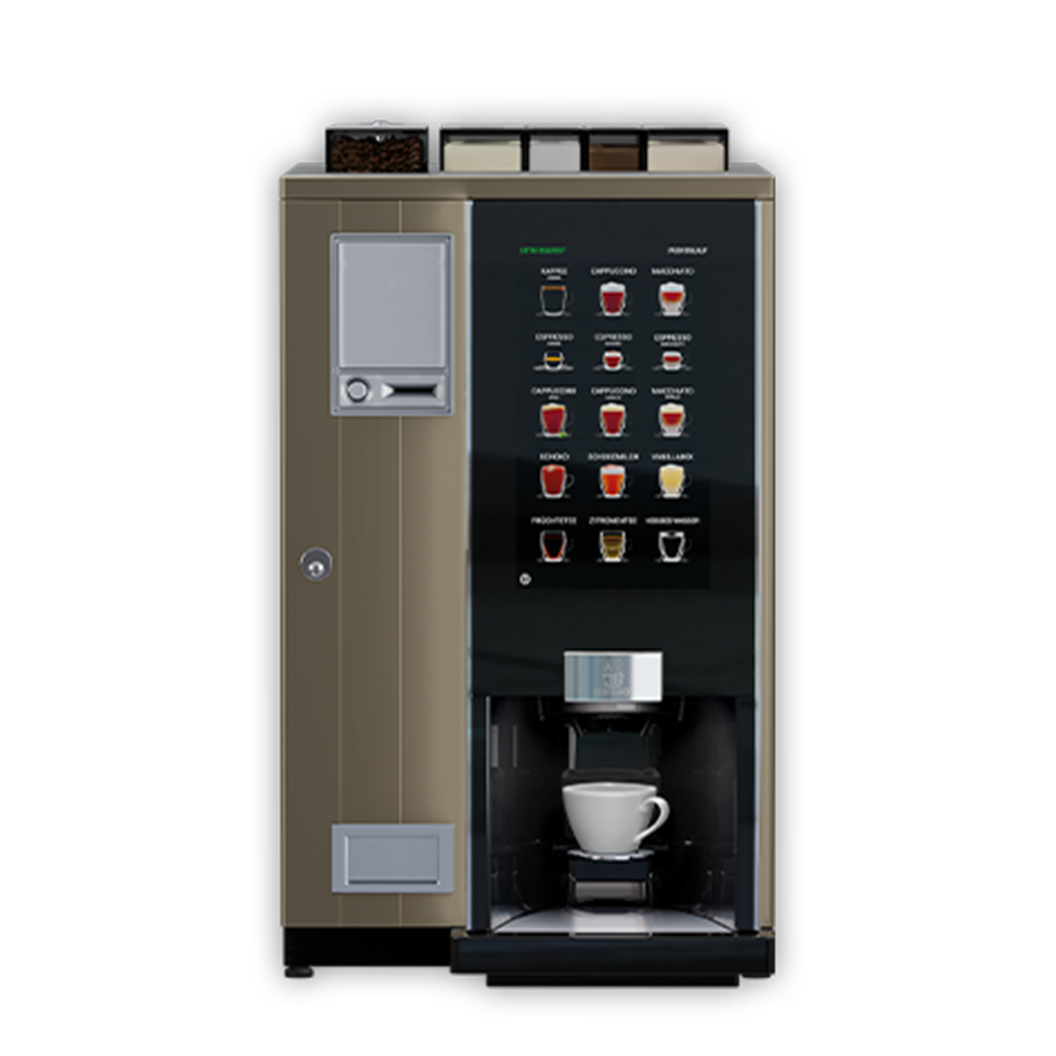 VIEW OVERVIEW
NEWSLETTER REGISTRATION
JAKOB GERHARDT
AUTOMATISCHE VERKAUFSANLAGEN GMBH
AM RAIGERWALD 18–20
D-72622 NÜRTINGEN

TEL. +49 (0) 7022 9 43 99 0
FAX +49 (0) 7022 9 43 99 22
INFO@GERHARDT-AUTOMATEN.DE